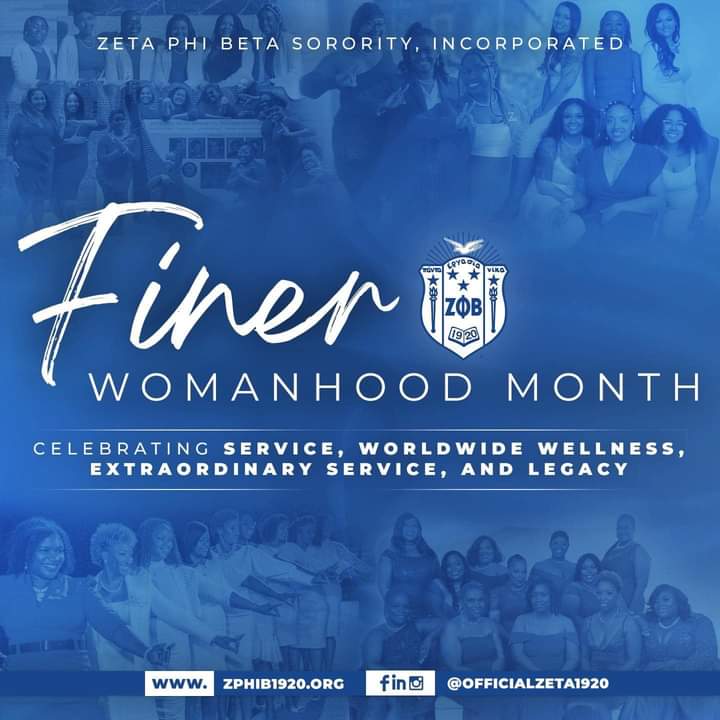 Finer Womanhood Month is celebrated from the last week of February to the end of March. It's a series of events hosted by each chapter of Zeta Phi Beta Inc including Beta Alpha Xi Zeta Chapter. Some events hosted by a chapter may be open to the community, while others will be restricted to members only to strengthen their chapter's sisterly bonds.
WHAT IS FINER WOMANHOOD?
Finer Womanhood is defined as "distinguishing characteristics of a woman, one superior in kind, quality, or appearance; marked by or affecting elegance or refinement". Every Finer Womanhood month event reflects what it means to be a Finer woman. Finer Womanhood month is a time for members to celebrate being part of Zeta Phi Beta Sorority, Incorporated and reflect on what it really means to embody this principle! The month presents the opportunity to look back on our wins as members of this amazing sorority and to reflect on what we can improve upon, as individuals, sisters, and sorority members as we move forward in our lives and our Zeta journeys.
How is Beta Alpha Xi Zeta celebrating Finer Womanhood Month?
Last year we celebrated Finer Womanhood Month with several events: "Finer Fashion and Makeup" "College Readiness Workshop", "BeYoutiful: Loving The Skin You're In Workshop" and "Sip and Paint Color Party"