Zeta Phi Beta Sorority, Incorporated is a community conscious, action oriented
organization founded on the principles of Scholarship, Service, Sisterhood, and
Finer womanhood. As an organization we strive to assist community outreach
programs, fund scholarships, and support organized charities. We provide service
to our communities through Z-Hope initiative, promote scholarship through Adopt
a School program and encourage health and wellness with our Finer woman hood
month.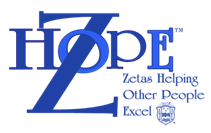 Z-HOPE™ is the international service program of the Sorority that has six primary objectives, corresponding measures of success and a mechanism for chapter recognition.  This year's theme is the Power of S.H.E. and our programming will focus on social justice, health justice, and economic justice. Beta Alpha Xi Zeta has been a long term partner raising money for several organizations such as American Cancer Society, American Kidney Foundation, St. Jude's, and March of Dimes.